An overview of activity and outcomes for members.
We continue to make good progress across our strategic priorities with some key outputs and outcomes delivered. Following the election of a new Prime Minister, we look forward to working alongside key stakeholders in the new Government to tackle same of the major issues, challenges and opportunities facing the UK economy and the future competitiveness of our industry.
International strategy
We continue to prioritise the implementation of our international strategy. Following the publication of our recommendations for how HM Government (HMG) could improve its delivery of the UK's investment screening system, we were pleased to see some of them addressed in new HMG guidance. As a follow up, we will be holding a member roundtable in November to discuss further possible improvements. We continue to work with HM Treasury to support a cross-government policy review of the UK's short-term mobility regime, with a view to getting the Home Office to change UK visa rules by Q4 2022. Our Market Advisory Groups (MAGs) have been working to boost UK trade with priority markets. We supported the UK and Swiss governments in their efforts to negotiate a Mutual Recognition Agreement (MRA) by leading a delegation to Switzerland in June to support negotiations. We also held policy roundtables in July with the Economic Secretary to the Treasury and HM Treasury officials on what the MRA should include.
We have continued our work to deepen financial regulatory cooperation with the US and Japan. We held a UK-Japan business roundtable after the inaugural meeting of the UK-Japan Financial Regulatory Forum to inform regulators of priority policy asks; and led briefing sessions with HM Treasury and the British American Finance Alliance in connection with the US-UK Financial Regulatory Dialogue. We visited India in May to secure support for industry policy priorities on Indian regulatory reform and the UK-India FTA. In June, the China MAG held UK-China forums on sustainable finance and capital markets connectivity. We also travelled to Uzbekistan with senior FCDO officials to identify how we could continue to help Uzbekistan develop its financial centre; and received senior delegations from the Central Bank of Azerbaijan and Vietnam.
We worked closely with international business allies to secure the renewal of the WTO Moratorium of Customs Duties on E-commerce transmissions, ensuring that tariffs are not applied on crossborder data flows. We sought to build further on the UK's position in global trade by producing the report 'Digital trade: a commercially viable approach' that sets out what our industry needs for digital trade and why through some clear policy recommendations. We will be working to push these recommendations forward to policymakers in the coming months.
We have also worked with key government departments (DIT, FCDO, HMT) to develop the UK's capabilities in international investment and mitigate against rising geopolitical risks by helping government strengthen their pitches to international investors and develop messaging about the strengths of the UK's business environment in a time of geopolitical tensions.
Trust and reputation
In June we held our 2022 Annual Conference in London, sponsored by EY and supported by Citadel Securities and DLA Piper. We welcomed more than 350 delegates and a fantastic line-up of speakers, including a series of keynotes from our new Board Chair, Anne Richards DBE; John Glen MP, the then Economic Secretary to the Treasury; and Sarah Pritchard, Executive Director, Markets, FCA. We also held 'in conversations' with Rachel Reeves MP, Shadow Chancellor, and Nik Storonsky, founder and CEO of Revolut, as well as running three energetic panel sessions focused on tech and innovation, transitioning to net zero and long-term competitiveness and growth.
Party Conference season is well underway; we have attended the Labour Party Conference and will also be at the Conservative and SNP Conferences. The Liberal Demoncrats Conference was cancelled as it fell during the mourning period. We hosted a frinage event and sponsored the New Statesman drinks reception at the Labour Party Conference and will be once again sponsoring the 1922 Committee's drinks reception at the Conservative Party conference, which gives us a great platform alongside the Chancellor of the Exchequer. We will also be hosting fringe events at the Conservative and SNP Conferences – the latter alongside the City of London Corporation, focusing on regional and sustainable growth. We look forward to engaging with policymakers, senior stakeholders and of course our members who are attending each conference.
At the start of the summer, we launched the 2022 iteration of our 'Key facts about UK-based financial and related professional services' report. It shows the industry's relative stability throughout the pandemic and notes that its economic output (GVA) saw year-on-year growth of 8% in 2021, following a contraction of 0.6% in 2020, with total industry output in 2021 accounting for 12% of total UK economic output, up from 10% in 2020.
Regions and nations
Earlier this month, we launched our annual 'Enabling growth across the UK: UK-based financial and related professional services' report, although respectfully cancelled our roundtable event in Leeds with the Mayor of West Yorkshire, Tracy Brabin, due to the Queen's passing. The report provides detailed data on the local, regional, and national employment and economic contribution of the industry. It also makes recommendations on how the industry can further support growth across the UK.
Preparations are well underway for our National Conference 2022 with Scottish Financial Enterprise, sponsored by PwC and supported by State Street, which will be held in Edinburgh on 1 December.The event will focus on the significant contribution of financial and related professional services to economies across the UK and the industry's role in supporting key issues such as regional growth, levelling up, diversity and inclusion and the transition to net zero. If you haven't already registered to attend, please do get in touch with events@thecityuk.com.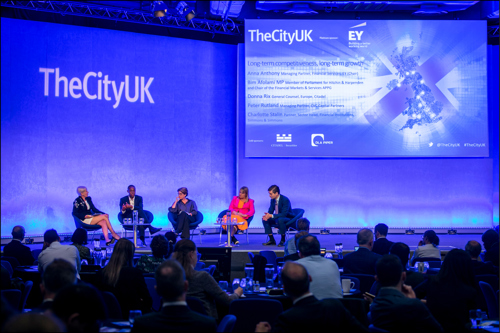 Long-term competitiveness
Early on in the Leadership campaign, we published 'Going for growth: TheCityUK's manifesto for the new Prime Minister'. The manifesto sets out how government can work closely with industry to maximise our contribution to economies and communities across the UK in eight key areas. The manifesto was a key piece of collateral for our engagement with the campaign teams and was well received across the industry. It generated a front-page in City A.M. and we secured an opinion piece in Conservative Home promoting the recommendations outlined. We look forward to discussing the key issues it identifies with the new government over the coming weeks. We have continued to push forward our agenda on the Financial Services and Markets Bill. We have met with the former Economic Secretary for Treasury, the Shadow Economic Secretary to the Treasury and other key stakeholders, including members of the Treasury Select Committee, to discuss our recommendations and were due to give evidence to the Bill committee on 20 September (postponed due to the period of national mourning for the Queen). We have formed a Financial Services and Markets Bill Advocacy Group with interested members from across the industry to ensure our work on this continues to reflect the priorities of our members and continue to work closely with partners across the major trade associations and the City of London Corporation.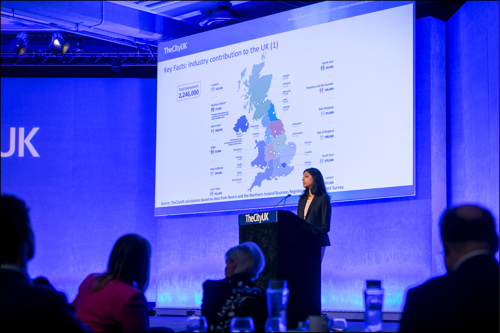 Sustainability
In partnership with PwC, we have produced the report 'Enabling the net zero transition: the role of financial and related professional services', which looks at how the industry can enable and support the drive to net zero. We will be working on the 10-point action plan and key policy asks it sets out and engaging with senior stake holders and policymakers over the coming weeks to drive this forward.The IRSG recently published the report 'Financial services priorities for the G7 and G20 presidencies, highlighting the need for leadership on sustainable finance for inclusive economic development. G7 countries confirmed their leadership by backing the use of the Taskforce for Climate-related Financial Disclosures framework.