An overview of activity and outcomes for members.
As we near the end of the first quarter we've already delivered some key outputs and outcomes for members across our strategic priorities. Alongside producing, publishing and promoting four reports, we have delivered a very successful Annual Dinner; influenced significant amendments to two key Bills in their passage through Parliament; led delegations to India and Hong Kong and continued to bring together members with senior industry stakeholders.
Long-term competitiveness
The Financial Services & Markets (FS&M) Bill has continued to be a major focus. Building on our successful work to secure the adoption of what is now 'Clause 37' (Report Requirements) in the Bill, we have continued to engage with key stakeholders and explore other opportunities to hold the regulators to account. A committee of both Houses is our preferred solution and we have discussed how this could be delivered with government, opposition and interested backbench peers.
We have also been successful in advocating for amends to a government amendment to the National Security Bill to create new provisions for a Foreign Influence Registration Scheme (FIRS) -  something that, if passed unamended, would detrimentally impact investment in the UK.
We were quick to react to address initial concerns around FIRS, coordinating work with members and several trade associations, including many outside our industry. We have been engaging across government and with Peers to advocate for the removal of the Primary Tier. We supported an amendment tabled by Lord Anderson to delete these clauses from the Bill, and therefore remove our industry's firms from the provisions. We continued to advocate for our industry being out of scope of the Bill with Peers and other key stakeholders as the Bill passed through Parliament. This is a very positive outcome on an issue of enormous concern for many members. This has been an excellent example of what the industry can achieve when focused on a common objective.
We have made a submission to HM Treasury setting out what we believe should be the priorities of the Spring Budget. This was been largely drawn from our 'Six point plan for growth', published last November, which focuses on areas where industry can work with government and regulators to enhance its competitiveness and contribution to the wider economy.
In late January we launched our report on 'Improving regulatory efficiency on authorisations', which highlighted the impact on firms' perceptions of the regulators' efficiency and potential long-term impact on UK competitiveness when financial authorisations are slow, inefficient and unpredictable. Senior representatives from the Financial Conduct Authority (FCA), Prudential Regulation Authority (PRA) and member firms joined the launch event for a productive discussion on the areas where industry and regulators could work together to improve efficiency. It was also well received by Andrew Griffith MP, has been noted in debates on the FS&M Bill in the Lords, and generated widespread media coverage.
We continue to work collaboratively with the City of London Corporation on the IRSG. The group has prepared a discussion paper in response to the Bank of England's consultation on AI and Machine Learning and published a short report on 'Financial Services Priorities for the Japanese G7 and Indian G20 Presidencies.
Our legal services work continues to progress well. We submitted a response to the Ministry of Justice's consultation on the UK ratification of the Hague Convention and have also been addressing member concerns on the Retained EU Law (REUL) Bill, working with other trade associations and the CBI and pressing for a far longer sunset period for its implementation. We also submitted a response to the House of Commons Public Bill Committee inquiry on the Bill. Our annual 'Legal Excellence, internationally renowned' report was launched in December, generating targeted media coverage and strong engagement from government. Alongside our Legal Services Group Chair, James Palmer of Herbert Smith Freehills, we met with the Lord Chancellor to discuss these issues and others.
Regions and nations
At the end of 2022, we held our National Conference in partnership with SFE in Edinburgh. Sponsored by PwC and supported by State Street, it focused on the significant contribution financial and related professional services make toeconomies up and down the country, and the industry's role in supporting key issues such as regional growth, levelling up, diversity and inclusion and the transition to net zero. Alongside a series of insightful panels and in conversations, around
260 delegates heard keynote addresses from the First Minister, the Rt Hon Nicola Sturgeon MSP, Scottish Labour Leader, Anas Sarwar MSP, and Economic Secretary to the Treasury Andrew Griffith MP. Feedback from delegates was excellent.
Our programme of work under this priority has continued to maintain good momentum. We held an event in Cardiff with the Welsh Economy Minister about how government and industry in Wales can work together towards collective goals; continue to deliver a series of discussions around the 'future of the union'; and as part of our ongoing advocacy for reform of the Apprenticeship Levy to introduce greater flexibility for firms, will be holding events with the major
parties on the topic.
We continue to engage with England's nine metro mayors to influence their approaches and policies ahead of the 2024 mayoral elections. In late 2022, we held a roundtable in Newcastle with Jamie Driscoll, North of Tyne and have two more events with metro mayors (Olive Coppard, South Yorkshire and Andy Street, West Midlands) diarised in March and April.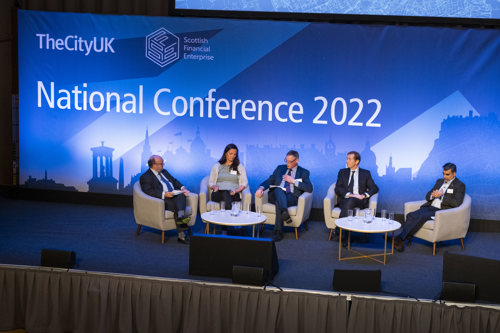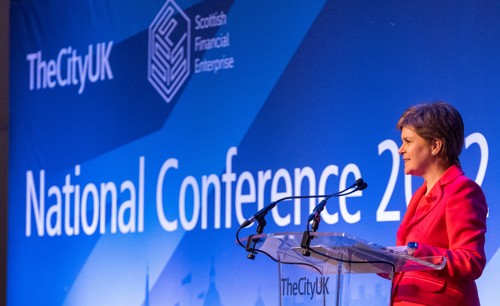 International trade and investment 
In recent weeks, we have led delegations to India and Hong Kong. During the former we met with Indian officials, regulators and key senior business counterparts to discuss the ongoing UK-India FTA negotiations and other market access issues. We were in Hong Kong at the invitation of Hong Kong's Financial Services Development Council, and it was an ideal opportunity to reinvigorate relations with locally-based stakeholders, as well as meet with policymakers, regulators and senior executives from member firms.
We have continued to push for a digital economy agreement with the US, supporting HM Government (HMG) with a report on the wider benefits it can deliver for regional development, SMEs and job creation. We have also maintained conversations on the opportunity for close UK-US regulatory cooperation and hosted a roundtable on issues such as digital assets, sustainable finance and operational resilience with a bipartisan congressional delegation.
Our Europe work has been reinvigorated and we have been working with HMT to resolve outstanding issues on the Swiss Mutual Recognition Agreement ahead of the final round of negotiations. We also responded positively to the 'Windsor Framework' noting that should the agreement be implemented, our hopes are that it will be possible to see progress made on the MoU on financial services regulatory cooperation and on the Lugano convention.
As part of our ongoing work to support the development of international financial centres, we are taking forward two pieces of work awarded in January by the Foreign, Commonwealth & Development Office (FCDO) with Nigeria and Vietnam. The former is to prepare a roadmap to implement a National FinTech strategy in Nigeria; the latter to support Vietnam's ambitions to develop a regional financial and business centre in Ho Chi Minh City. We are also a key industry partner for the FCDO Taskforce for the Early Reconstruction of Ukraine.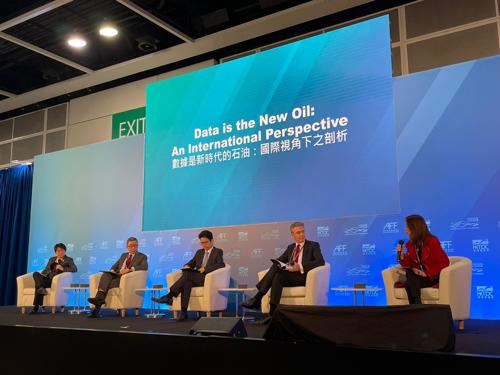 Green finance and sustainability  
The IRSG is working with the International Capital Markets Association to develop an ESG ratings code of conduct and readying for an FCA consultation on this. Planning ahead of COP28 is also underway. Earlier this year we held a ;well attended senior member roundtable with Rt Hon Philip Dunne MP, Chair of the Environmental Audit Committee.
Through our international work we continue to engage on global sustainable finance issues to develop and promote the use of global and interoperable sustainability disclosure requirements. We also engage bilaterally with other countries on issues such as transition finance and carbon markets. Given the international competitiveness pressures relating to bolstering green inward investment, we plan to publish a short policy paper on how the UK can boost its own green inward investment.
Trust and reputation
In early February, we held our 2023 Annual Dinner, sponsored by Shearman & Sterling, welcoming around 230 guests comprising senior members, Next Generation Leadership Council members, Parliamentarians, officials, Ambassadors, Heads of Commission and journalists who heard speeches from the Economic Secretary to the Treasury, Andrew Griffith MP, Shadow Business Secretary, Jonathan Reynolds MP and our Board Chair, Anne Richards.
In January, we launched our annual report on 'Key facts about the UK as an international financial centre' – a fantastic resource of facts and data on the industry – which generated widespread media coverage and offers content which is regularly drawn on by us and industry stakeholders across the year.