The run-in towards the end of the year has been very busy, with much activity delivered across the breadth of our work programme.
We responded positively to some of the measures announced by the Chancellor in his Autumn Statement last week, in particular the reforms to Solvency II and his shared ambition to make the UK the most innovative and competitive international financial centre. We also made clear the importance of government remaining focused on delivering economic stability and boosting growth and competitiveness.
In the run up to the Autumn Statement, we published priority asks for the industry in our 'six-point plan for growth'. Our policy recommendations cover six key areas of reform and set out how industry can work with government and the regulators to drive economic growth. We look forward to working with government over the coming weeks and months to see these delivered.
We are in the final stages of preparing for our 2022 National Conference with SFE, sponsored by PwC and supported by State Street, which will take place this year on 1 December in Edinburgh. We have a great line-up of speakers, including the First Minister of Scotland, the Rt Hon Nicola Sturgeon MSP, Anas Sarwar MSP, Scottish Leader of the Labour Party and Andrew Griffith MP, Economic Secretary to the Treasury. The event will focus on the significant contribution of financial and related professional services to economies up and down the UK and the industry's role in supporting key issues such as regional growth, levelling up, diversity and inclusion and the transition to net zero. If you haven't already registered to attend, you can do so here.
We have continued to push forward our agenda on the Financial Services and Markets (FS&M) Bill, with Emma Reynolds, our Managing Director, Public Affairs, Policy and Economic Research, recently giving evidence to the Bill Committee. Our FS&M Bill Advisory Group continues to work closely with partners across the major trade associations and the City of London Corporation to coordinate activity and ensure our work reflects the priorities of our members.
We have also been engaging with senior policymakers about proposals for growth and tax policy, including sharing our views on the Future Regulatory Framework with the Chancellor, officials and others at HM Treasury (HMT).
We launched our latest 'Exporting from across Britain 2022' report at DLA Piper in October. It explores the large contribution Britain's regions and nations make to overall UK industry export activity, showing that 43% of Britain's £129.7bn of industry exports originated outside London in 2020. Following the launch of this report, we were delighted to host a parliamentary reception where we shared the report findings and key constituency information from our 'Enabling growth across the UK 2022' report with MPs, members and officials.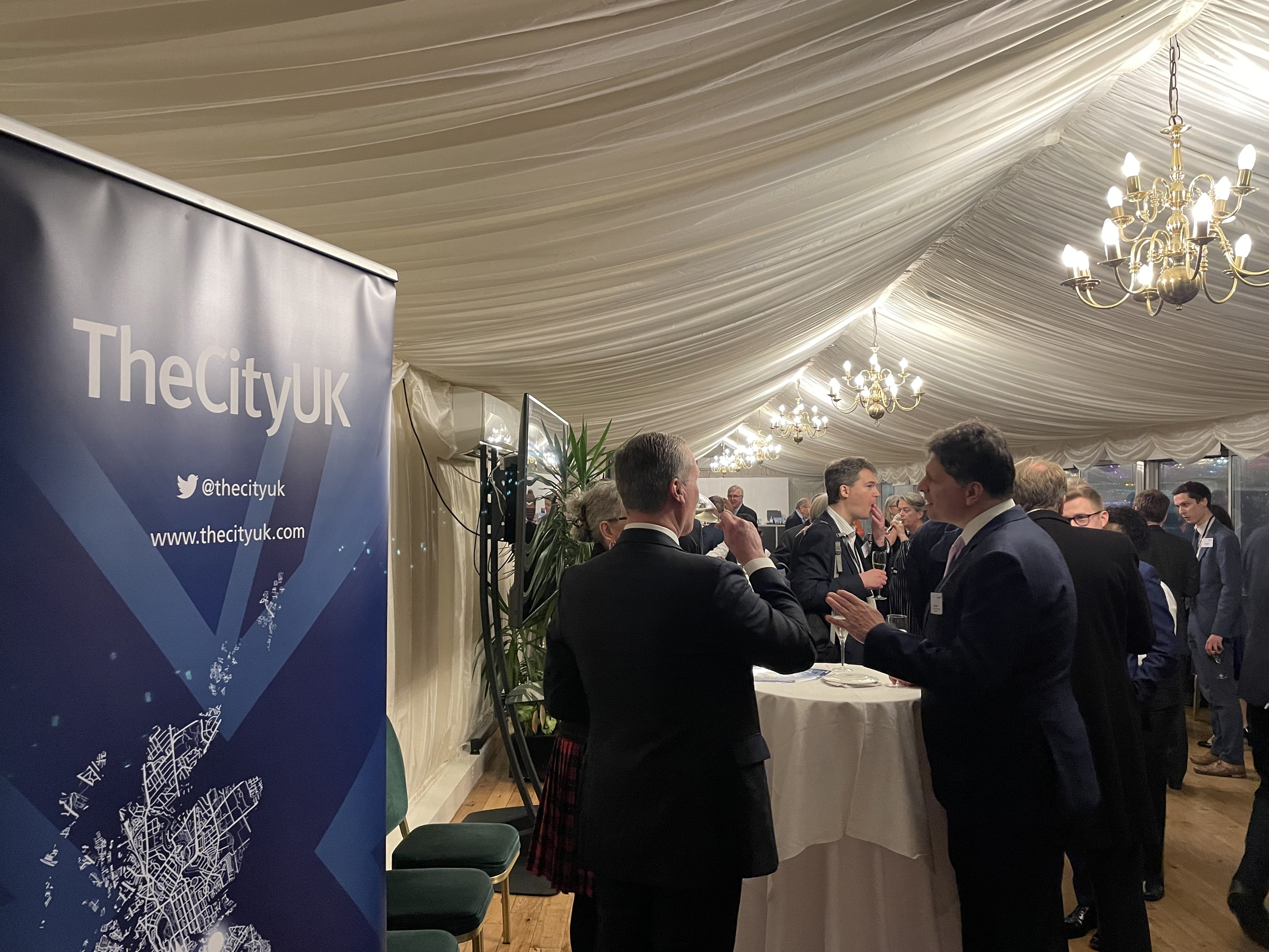 Work to deliver our international strategy continues at pace. We continue our close engagement with HMT and UK regulators to secure a UK-Switzerland Mutual Recognition Agreement (MRA) that will liberalise cross-border financial trade between the UK and Switzerland. We have held several expert roundtables with HMT officials to advise them on the detail of the MRA, as well as a roundtable with the City of London Corporation to discuss progress towards the MRA and new FTA, which included senior officials from HMT, DIT and their Swiss counterparts.
In September, I travelled to New York to meet senior industry representatives and attend the Atlantic Future Forum Conference where there was a strong focus on international security and future technologies. I will be in Washington later this month to engage with key US stakeholders on opportunities to deepened the economic relationship between our two countries.
We continue to advocate for the industry's priorities in the ongoing UK-India Free Trade Agreement negotiations, including meeting with senior officials in DIT to stress that the deal must include strong provisions for services. We briefed the Chief Executive of the FCA on industry policy priorities ahead of his trip to India in September, and will work in partnership with HM Government to brief officials in the Indian Ministry of Finance on key opportunities for regulatory reform. I also recently spoke at the Institute of Directors 2022 London Global Convention, highlighting the importance of the India-UK Financial Partnership.
Our work on the sustainability agenda remains a priority and we were pleased to attend COP27. Our green finance and sustainability lead was part of the UK business mission organised by the Egyptian British Chamber of Commerce (EBCC) and British Egypt Business Association (BEBA) and met with senior stakeholders from across the industry where the focus was on the key role our industry must play in enabling the transition to net zero.
Our Green and Sustainable Finance Group met with the UK Infrastructure Bank in October to discuss the challenges in scaling up finance for UK low carbon and enabling infrastructure. We have also responded to the 'Net Zero review: Call for evidence', reiterating the importance of clear wider economy policies, incentives, de-risking and blended finance to enable finance to scale up the transition to net zero and improve energy security in the longer term.
As always this is just a summary of our work, so please have a look at our other activity here and our forthcoming events.
Miles