Influencing the government's green strategy
We welcomed the government's announcement that an updated Green Finance Strategy will be published in 2023. We responded to the call for evidence on the Strategy last year and also to the Chris Skidmore Review. It is positive that the government is clearly signalling that progress on green finance remains a priority.
Having called for the regulators to better understand the UK's wider net-zero economic needs in our response to the Chris Skidmore Review and in our Enabling the Net Zero Transition report with PwC, it was welcome to see the Chancellor's letters to the FCA and PRA requesting them to have regard to the UK's net zero wider economic policy, and in particular on the supply of capital into UK net zero infrastructure.
A consultation will be held in on bringing Environmental, Social and Governance ratings providers into the regulatory perimeter. This is something that the IRSG (joint venture between TheCityUK and the Corporation of London) have been calling for.
Green finance research
We recently published 'Enabling the net zero transition: the role of financial and related professional services' in collaboration with PwC, a report identifying a number of barriers, risks and challenges that are currently preventing the industry from scaling up its support. We drew up a 10 point action plan of recommendations for the government to address these challenges.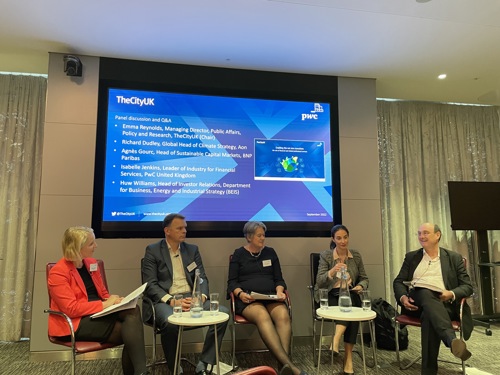 Our report 'Green finance: a quantitative assessment of market trends' highlights the UK's green finance strengths and areas where the UK should build new capabilities. Following its publication we also looked at how to make the UK the world's leading international financial centre for green and sustainable finance based on the findings in the report.
Our most recent report in this area, 'Global carbon pricing mechanisms and their interaction with carbon markets' constitutes ground-breaking new research which presents an overview of carbon markets, including the underlying principle of carbon pricing; and quantifies various mechanisms to give a sense of the scale of the market and how it has grown in recent years.
COP27
We were part of the UK business mission to COP27 organised by the Egyptian British Chamber of Commerce (EBCC) and British Egypt Business Association (BEBA) and met with senior stakeholders from across the industry where the focus was on the key role our industry must play in enabling the transition to net zero. We will also be attending COP28.