Set out and promoted with key stakeholders a 10-point action plan on how the industry can support and enable the transition to net zero in our 'Enabling the net zero transition' report with PwC. The report also details a series of policy to facilitate collaboration between industry and government in the drive to net zero asks and we continue to engage with senior stakeholders and policymakers to move this forward.
Published ground-breaking new research on carbon markets in our 'Global carbon pricing mechanisms and their interaction with carbon markets' report with ICE. The report presents an overview of carbon markets, including the underlying principle of carbon pricing; and quantifies various mechanisms to give a sense of the scale of the market and how it has grown in recent years. It also looks at the opportunity for the financial and related professional services industry to play a leading role in these markets' ongoing development. Work is underway to develop policy position on carbon markets as well as on biodiversity and natural capital – an area of increasing interest and priority for members.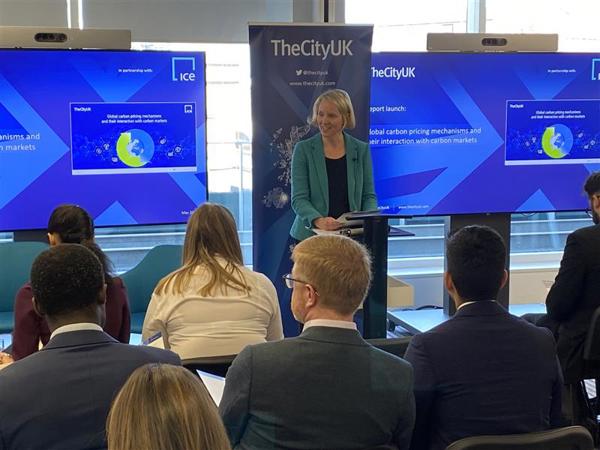 Put forward a series of recommendations to Government on how to respond to the Inflation Reduction Act (IRA) in the US, which unveiled $369bn of subsidies for US green infrastructure projects. We recommended that government more clearly set out its long-term net zero policy and commit to tackling bottlenecks to drive action across the whole economy, while ensuring we have a competitive tax and regulation system, and working with the private sector to de-risk long-term investment into green infrastructure and technology in the UK. Our recommendations include action in three key areas: long-term policy, long-term certainty and nurturing competitive advantage and we have been engaging policymakers on these ahead of the Autumn Statement.
Fed industry priorities into the government's Green Finance Strategy, through our Green and Sustainable Finance Group (GSFG), chaired by Anne Marie Verstraeten of BNP Paribas. Following its launch in March, we have been working closely alongside the International Regulatory Strategy Group (IRSG) ESG Committee and members of the GSFG to respond to the strategy and agree the various consultations and calls for evidence that are priorities for us to address.
"The financial and related professional services industry has a key role to play in driving the transition to net zero. The Environmental Audit Committee has worked on various strands of green finance and the productive discussions I have had with TheCityUK and their members, including at the launch of their Carbon Markets Report, have shown how seriously they take this work."
Philip Dunne MP, Chair of the Environmental Audit Committee
Supporting the development of a voluntary Code of Conduct for ESG data and rating providers through the IRSG and in collaboration with the International Capital Markets Association (ICMA). The IRSG and ICMA are providing the secretariat for the FCA mandated ESG Data and Ratings Code of Conduct Working Group (DRWG) and developing a comprehensive, proportionate and globally consistent voluntary Code of Conduct. The DRWG has launched a consultation to gather stakeholder insights to aid with its further development and work will continue over the coming year.
Attended COP27 in Egypt as part of the UK business mission organised by the Egyptian British Chamber of Commerce (EBCC) and British Egypt Business Association (BEBA) to discuss the industry's role in enabling the transition to net zero and meet with senior stakeholders. We will be attending COP28 in the UAE later this year to continue those conversations, press industry priorities and underline its important role in the drive to net zero and the UK's status as a leading centre for green and sustainable finance. We are engaging with members, embassies and the UK government to ensure a coordinated approach, have partnered with the Global Ethical Financial Institute on their Path to COP28 programme, and are working with the WAIFC on a possible blue zone event to showcase how the industry is supporting the green transition.