As we head into summer, we continue to focus on delivering key outcomes across our strategic priorities.
In June we held our 2023 Annual Conference, sponsored by Citadel Securities and DLA Piper, welcoming around 300 delegates for what was a great event. Alongside a fantastic line-up of speakers, including Andrew Griffith MP, EST; Tulip Siddiq MP, Shadow EST; Sheldon Mills, Executive Director of Consumers and Competition at the FCA; and Bruce Carnegie-Brown, Chair of our Leadership Council, we also had a series of wide-ranging panel discussions with senior practitioners and stakeholders. We were delighted to welcome Bloomberg Radio, who broadcast live from the event across the morning. Feedback from delegates has been very positive – if you couldn't join us on the day or missed any of the sessions, you can watch the recordings.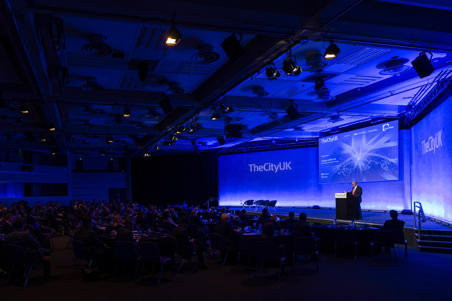 Our International Conference 2023, sponsored by Freshfields Bruckhaus Deringer, HSBC and State Street, in April was also a great success, attracting a similar number of delegates who heard from the likes of our Board Chair; Ian Stuart of HSBC UK Bank Plc; Lord Johnson of Lainston CBE, Minister for Investment, and Nick Thomas-Symonds MP, Shadow Secretary for International Trade, as well as panels packed with expert practitioners and stakeholders.  We launched our 'Driving UK growth' report with Freshfields into the conference, which both proved helpful in informing conversations during the event and generated some strong good media coverage in key outlets. We continue to engage key stakeholders on its recommendations. Planning is now underway for our National Conference 2023 in Manchester on 23 November.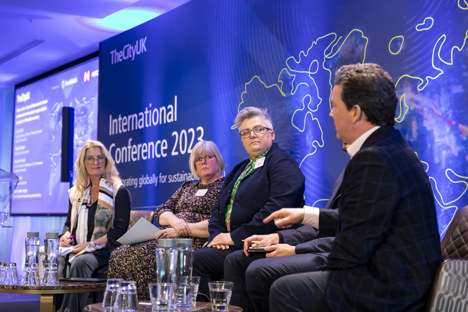 On the same day as our Annual Conference, the Financial Services and Markets Act received Royal Assent and was written into law. Getting such an historic and important piece of legislation over the line was a great achievement. It includes key elements to further drive growth and competitiveness across the UK and ensure regulatory accountability. We have been activity engaged with the Act and key stakeholders during its passage through parliament, with particular focus on ensuring the inclusion of the secondary objective for growth and competitiveness for the regulators and appropriate scrutiny and measures to track their performance against that over time. Our work will now switch to ensuring its effective implementation.
Following our successful campaign to amend the Foreign Influence Registration Scheme (FIRS) as part of the National Security Bill and remove our members from the legislation's scope, we expect Royal Assent imminently. Once achieved, the Home Office will convene expert panels to look at guidance, particularly to define 'relevant activity'. We have been invited to take part in those panels and it is currently expected that the FIRS will come into force in 2024 at the earliest.
Along with our Board Chair, Anne Richards DBE, I joined the Business Connect Conference, jointly hosted by the UK Prime Minister and the Secretary of State for Business and Trade. The event was a great opportunity to engage with UK Government ministers, CEOs and Business Leaders to focus on the PM's priority to grow the economy. There were plenty of insightful discussions and I look forward to continuing to move these conversations forwards. I also attended the Ukraine Recovery Conference – a very practical series of discussions on collaboration between the UK and Ukraine, attracting investment into the country to help rebuild after Russia's aggression and other topics. We also signed the Ukraine Business Compact, signalling our support to playing a part in rebuilding a stronger, more resilient Ukraine and, when the time is right, to share our expertise in helping to drive future trade and investment opportunities and forging new partnerships.
With a general election expected to take place in 2024, we have been engaging with the major political parties as they begin to draft their manifestos. We have sent contributions to three of Labour's policy reviews, on the 'everyday economy', 'international trade' and 'sustainability'. We have also engaged with Labour's policy advisors covering a range of portfolios and were delighted to host the Shadow Chancellor, Rachel Reeves MP, Shadow Business Secretary, Jonathan Reynolds MP and Shadow Work & Pensions Secretary, Jonathan Asworth MP, for an event at our office to discuss the policy steps Labour could take to increase the proportion of assets under management that pension funds allocate to growth and alternatives, and generate larger pools of institutional capital.
I attended the launch of the Liberal Democrat's consultation where Shadow Treasury Spokesperson, Sarah Olney MP, was particularly interested in our proposals to reform the apprenticeship levy. A few weeks ago, we held the latest in our general election events series, in partnership with Aquis Exchange, welcoming the Rt Hon Greg Hands MP to discuss the current government's plans to secure economic growth and international competitiveness. We have further events in the series with Labour and the Liberal Democrats scheduled for later in the year.
As part of our International work, we have welcomed several inbound delegations, including ones led by Nik Nazmi, the Malaysian Energy Minister and Dr Ma Jun, Co-Chair of the UK-China Green Finance Taskforce, as well as the WAIFC Board and India-based representatives from the India-UK Financial Partnership (IUKFP). The IUKFP launched its latest report, 'Harnessing the power of FinTech and data' at the UK-India Financial Market Dialogue on 19 April, where it was the only private-sector group invited to take part.
We were delighted to lead a delegation with UK Finance to the US in May. The three-day visit to New York and Washington DC enabled us to follow up conversations from previous visits and progress industry priorities with key US-based stakeholders. The meetings enabled extensive and varied discussions on the US economic, regulatory and political landscape, the future of the bilateral relationship as well as geopolitical issues. We also recently held a roundtable for members and agencies supporting regional investment and growth from the UK and US to discuss the challenges and opportunities of attracting development to hubs outside of long-standing financial centres such as London and New York.
As part of our work around green and sustainable finance, we recently launched our brand new 'Global carbon pricing mechanisms and their interaction with carbon markets' report in partnership with ICE. This ground-breaking new research presents an overview of carbon markets and the underlying principle of carbon pricing, as well as quantifying various mechanisms to give a sense of the scale of the market and how it has grown in recent years. It also highlights how the UK has an opportunity to play a leading role in these markets' ongoing development. At the report launch event we heard a keynote from Rt Hon Graham Stuart MP, Minister for Energy Security and Net Zero, and welcomed Rt Hon Phillip Dunne MP, Chair of the Environmental Audit Committee, to the panel. Our Chief Economist and Head of Research, Anjalika Bardalai also discussed the report at the UK-China Carbon Markets Roundtable that we hosted in partnership with the City of London Corporation.
The Chairs of our Green and Sustainable Finance Group and IRSG ESG subgroup sent a joint letter to HM Treasury outlining the industry's reaction to the government's recent sustainability announcements. We are creating a short position paper on these issues, and how the UK should respond to the Inflation Reduction Act, enabling us to engage with a wider range of parliamentary stakeholders on sustainability.
As always, this is just a snapshot of our activity, you can read more in the 'our work' and 'news' sections. I am grateful to all members who continue to engage with and support our work.
Miles